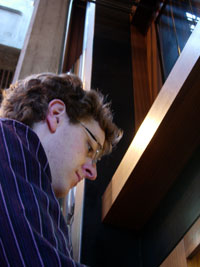 David Connolly is a graduate of NUI Maynooth with a first-class honours degree in music and mathematics, a first class honours MA in performance and musicology and a higher diploma in education. He is a former organ scholar of Maynooth College and Dublin's Pro-Cathedral as a student of Professor Gerard Gillen. In 2013, he was awarded a PhD from DIT Conservatory of Music and Drama, specialising in French organ music.
David has served as a member of the committee of Pipeworks, the Dublin Diocesan Advisory commission on church music and the Irish committee of the Royal School of Church Music, for which he served as honorary secretary. From 2005 to 2007 he was director of the Maynooth University Chamber Choir and in 2009 he was appointed the first director of the NUI Maynooth Ladies' Choir. He is an organist, tutor and conductor with the Irish Church Music Association. In 2006, he was appointed organist and director of music at St Michael's Church Dún Laoghaire where is director of the international organ recital series. He is a multiple contributor to The Encyclopaedia of Music in Ireland.
David is a lecturer in the Department of Music and Creative Media at Dundalk Institute of Technology, having many years teaching experience at NUIM and DIT.
Dún Laoghaire Summer Organ Concerts Committee
Director: Dr David Connolly
Joseph Bradley
Deirdre Comer
David Grealy
Patrice Keegan
Darren Magee
Maghnus Monaghan
Dr Carole O'Connor
David O'Shea
Paul Mullen
Martina Smyth